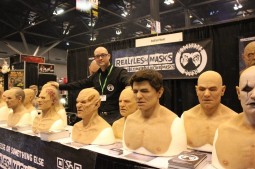 Realflesh Masks was founded by Ian Marier in 2010 .Self taught fx artist and entrepreneur . Ian started out making foam latex prosthetics 25 years ago in his father's garage which slowly turned into a passion for realistic fx . Realflesh Masks started as a one man show as he took on and worked out every steps of the mask making production until the company grew into what it is today and stil expanding in different fields .
From sculpting, molding, painting, customer service and shipping, Realfflesh Masks now works with some of the very best sculptors and skilled technicians in the industry to bring you the highest quality product possible as Ian continues to strive for the best by constantly innovating and perfecting our craft.
With more products designs always on the workbench, Realflesh Mask's line will blow you away with it's quality and craftmanship.
OUR TEAM:
Sculpting Team:C.J Goldman, Caroline Aquin, Bruno Gatien
Lead Shop Technician: Ian marier
Shop Technnicians: Anne -Marie, Mark Unterberger
Administration & Production Management:Ian Marier
Founder / Owner / Painter: Ian Marier